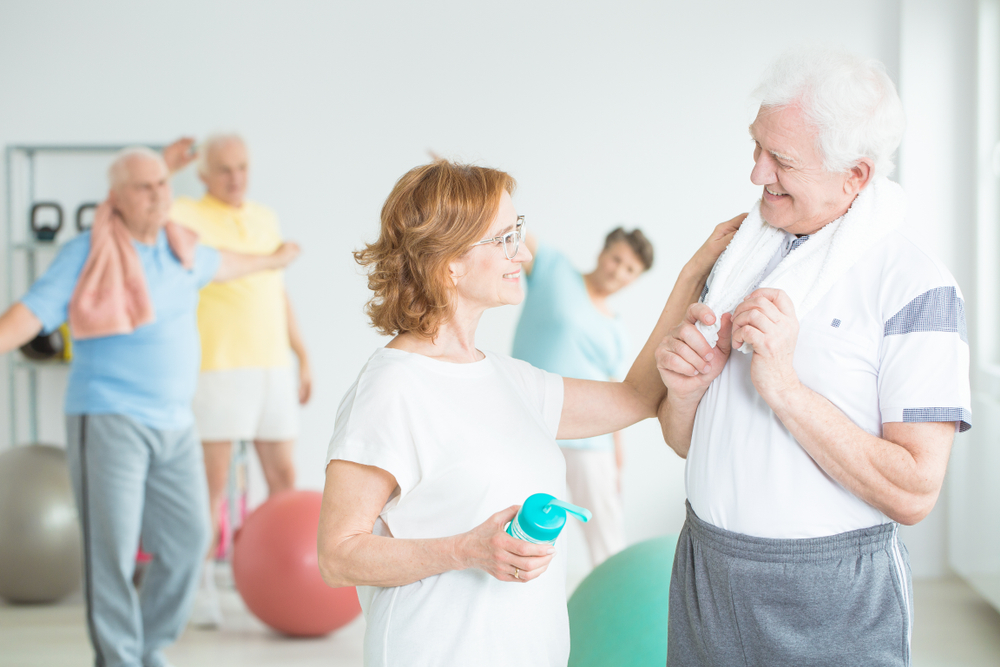 The GLA:D® Program is a group-based exercise program, designed to be run in private practices, community health centres and hospital outpatient facilities.
The GLA:D® Program is an education and supervised exercise program, involving:
An initial assessment: 2 short outcome measures are completed (30sec chair stand test and 40m walk test) (OARSI tests)

2 x group education sessions: ~60-90mins duration, delivered preferably before participant starts.

12 x supervised group exercise sessions: ~60 mins duration, delivered twice weekly

A follow-up assessment: 3 months after the initial assessment, where the two outcome measures are measured again
Online questionaire: Participants also complete an online questionnaire at baseline, 3 months and 12 months post
Please note: all above components must be delivered by a GLA:D® certified exercise professional
Providers set the cost of the Program, with most private clinics charging between $500-$700. Supervised exercise sessions can be billed under a "Group Consultation", item code 560, with eligible participants getting a rebate from their private health insurers.
The GLA:D® Program is generally run as a group session, but can be run individually if needed, depending on the participant's needs.
Medicare-subsidised visits, under the Chronic Disease Management or Enhanced Primary Care plan, are only valid for 1:1 consultations, including the participant's initial assessment, 3 month follow-up assessment and 1:1 supervised exercise sessions.
Number of classes a week? Minimum of 2-3 to provide some flexibility.
Number of participants per class? 4-6 depending on resources and number of exercise professionals available.
Cost of classes? Classes paid per participant, consider pricing GLA:D® classes similarly to a Pilates class/other group sessions.
Cost and length of education sessions? You might consider running these at no cost, but the value is at least the same as the exercise sessions.  Different funding options may not reimburse participants for education – this is part of our advocacy work.  These sessions will run from 1-1.5 hours depending on participant discussion.
Topics discussed in educational session?
Session 1: Osteoarthritis overview, risk factors and treatment.


Session 2: Exercises for OA, everyday activities and OA,  coping and self help topics.
The following is the equipment needed for a GLA:D® class of 4:​
​
| | | |
| --- | --- | --- |
| Bike / X Trainer / Arm Ergo/ Active Warm up | Hand weights 2x1kg, 2x2kg |  Steps: Small / medium / large |
| Therabands red /green /blue /black | Swiss balls x2 | Floor mats X 2 |
| Sturdy chair x2 |  Mirrors | Floor sliders /mats x4-6, balance mats x4-6, broomsticks x4-6 |
| | |
| --- | --- |
| Projector /laptop and whitewall or screen for educational sessions | Up to date defibrillator and advanced CPR certification |
Suitable spaces for classes:
Small gym areas (~5m x 5m)
Multipurpose rooms
Pilates Studios
Education sessions:
You will need a space to deliver these to participants, either in a small group or individually, and a large TV or Projector for the presentation.
Outcome measures:
You will also need a walkway for assessment of fast walking speed.