Professional Development Opportunity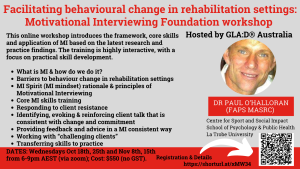 Why do Motivational Interviewing Training?
Facilitating Behavioural Change in Rehabilitation Settings: Motivational Interviewing Foundation Workshop - Dr Paul O'Halloran
ONLINE Four Wednesdays 6pm-9pm, AEST:
NEW DATES: 18 and 25 October, 8 and 15 November 2023
(equivalent of 2-day/12-hour workshop)
Cost: $550 (no GST)
ONLY 30 PLACES
  
Overview of program 
The Motivational Interviewing (MI) Foundation Skills workshop introduces the framework, core skills and application of MI based on the latest research and practice findings. The training is highly interactive, with a focus on practical skill development.
  
The workshop, delivered via Zoom over 4 evenings, covers the following topics: 
What is MI and how do we do it?

 

Barriers to Behaviour Change in Rehabilitation settings

 

MI Spirit (MI mindset) rationale and principles of Motivational Interviewing

 

Core MI skills training

 

Responding to client resistance: a new perspective

 

Identifying, evoking and reinforcing client talk that is consistent with change and commitment

 

Providing feedback and advice in a MI consistent way

 

Working with "challenging clients"

Transferring skills to practice

 
 
Target Audience 
This workshop is suitable for GLA:D®-trained physiotherapists and exercise physiologists in clinical and supervisory roles with no knowledge of MI through to those who want to deepen their understanding and practice. The MI approach is relevant for a wide range of presenting issues including chronic conditions and in a variety of settings. The focus of this workshop will be on equipping you with the skills to facilitate behavioural change in health and rehabilitation settings. 
About the Trainer 
Dr Paul O'Halloran (FAPs MASRC) has been working clinically in rehabilitation for over 15 years and has been using Motivational Interviewing to facilitate behaviour change in a range of rehabilitation settings. A particular area of his expertise involves assisting people with chronic conditions such as low back pain, COPD, Osteoarthritis, and hip fracture increase physical activity through the application of motivational interviewing.
Paul has published extensively in motivational interviewing and behaviour change in relation to increasing physical activity in clinical and general population settings and is at the forefront of innovations in health practice, behaviour change and clinical strategies with a special interest in motivation and confidence.
Paul has long-standing experience training allied health professionals such as physiotherapists to be able to embed motivational interviewing into their clinical practice. He is an internationally recognised Motivational Interviewing Network of Trainers, an executive member of the Oceanic branch of the Motivational Interviewing Network of Trainers, a Fellow of the Australian Psychological Society and qualified Rehabilitation Counsellor. 
Cost: $550 (no GST)
REGISTER AND PAY HERE
Limited to 30 participants